A conversation with Jim about

renting out a cornhole set

for his retirement party on FriendWithA
Can you tell me about yourself in particular, why was last Saturday such a special day for you?
I just turned 60 and grew up on a farm over in Illinois. I have been working for 48 years with hardly any breaks. When I was 12 years old, I started driving a tractor and have pretty much been working ever since. So last Saturday was a chance to celebrate my retirement after 48 years of nonstop work.
Did you have friends and family coming from other locations? Were they pretty excited for you as well?
O gosh yeah. I had family and friends come from all over to celebrate. My sister and brother in law came from Dallas, niece from Salt Lake, family from Spokane and friends from all around the Seattle area.
What motivated you to rent a cornhole set in particular for your party?
So, I live in a small condo in the Seattle area. We have a small little finished roof and I wanted something to do up there besides just drink beer and mingle. I wanted some kind of retirement party game, something fun that everyone could do and participate in. And it's not like we could play volleyball 4 stories up on the balcony.
What do you mean everyone can participate in?
Cornhole is a great spectator game. Even if you're not playing, you can cheer or heckle the team that's winning. It doesn't take great deal of athleticism, to throw a beanbag, everybody can do it, it's also a great way to control a party. Rather than drinking, everyone is sitting around having fun watching the teams play cornhole.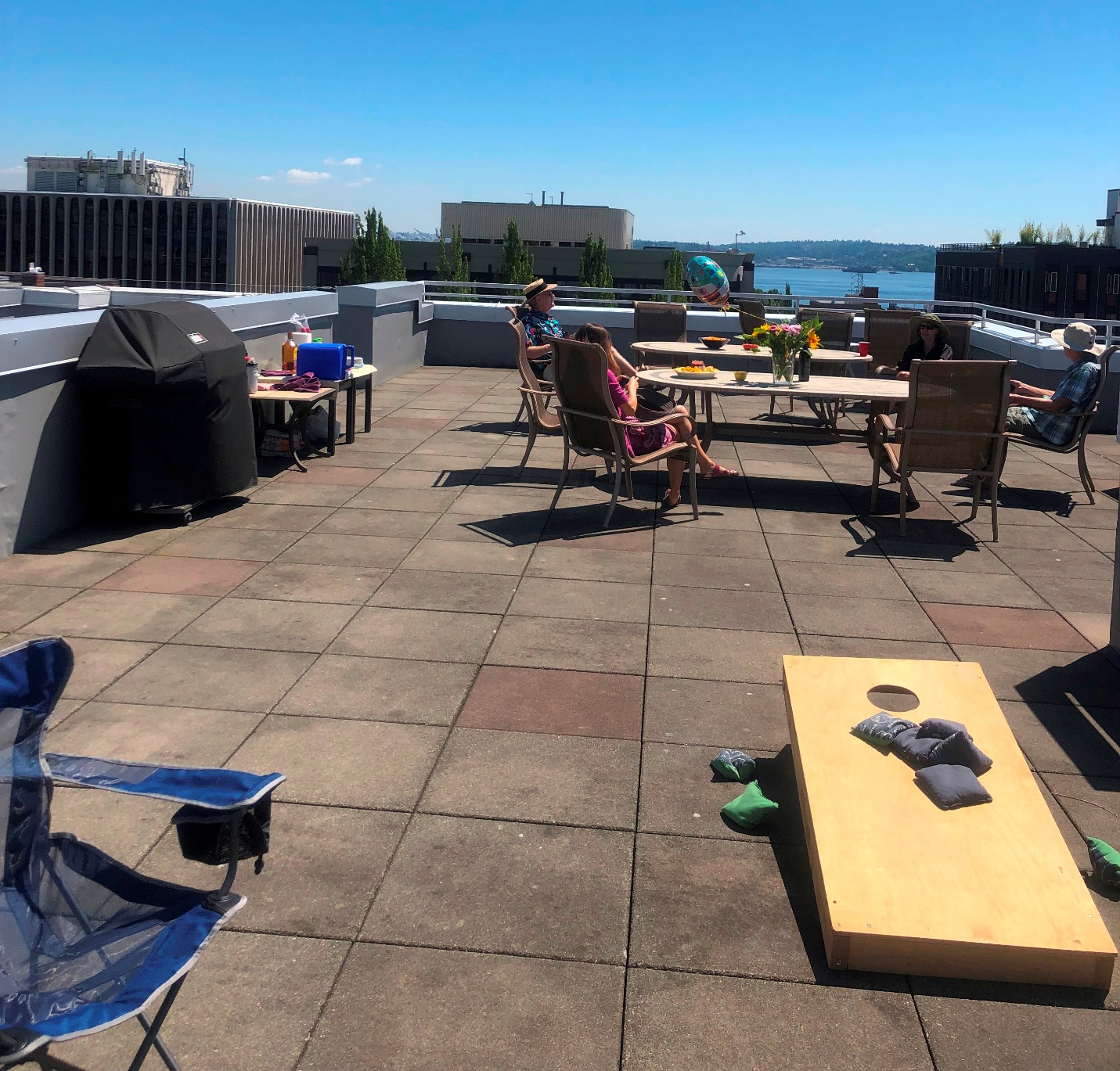 Why did you feel you needed to rent one rather than go out and buy it?
I'm not quite sure I would use it enough to justify buying. My condo is small, so not a lot of extra space. Just seemed like the right thing to do!
How was your experience with the cornhole set? Did it add some fun to the party?
It was the center of the party. I knew it would be fun. I know my friends and the type of people we are. But it was really fun. If you weren't playing you were cheering or heckling or both.
What would you say to somebody on the fence about renting a cornhole set on FriendWithA?
Well it was super easy. You helped that by meeting me half way. It was really easy, no difficulty, great experience and great fun. Worst thing no one would want to play, but that wasn't a problem with us!
Would you recommend FriendWithA to a friend?
Without question yeah. I was telling everyone at the party about it and they were all super intrigued!
Photo of Jim celebrating his 60th retirement party