Cornhole set / Bean Bag Tos rentals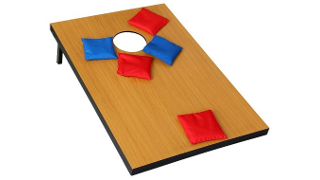 Cornhole is a fun yard game where players take turns throwing bags of corn at the other board. Rent a cornhole set for a fun time with friends at a BBQ, drinking beers and just good old fun hanging out. Browse our cornhole boards from our various providers today.
Peer to Peer
Rental Marketplace
FriendWithA is a peer to peer rental marketplace for Cornhole set / Bean Bag Tos rentals. "Like AirBnB, but for Cornhole set / Bean Bag Tos rentals." We connect anyone looking for a short term rental or anyone looking to try out a new experience, with businesses and individuals looking to earn some extra money in a safe, trusted and protected environment. We help you find your friend with a Cornhole set / Bean Bag Tos.
LENDING GUARANTEE
$2,000 physical damage reimbursement for any items that you rent out, that are either lost, stolen or damaged. We will replace your item or give you the fair market value if anything happens to your stuff.
LENDING PROTECTION
We are currently working with insurance providers to provide you with liability insurance as well.
How it works
Have any questions about the cornhole set / bean bag toss rental process on FriendWithA? To borrow a Cornhole set / Bean Bag Toss, follow the easy 3 step process below.