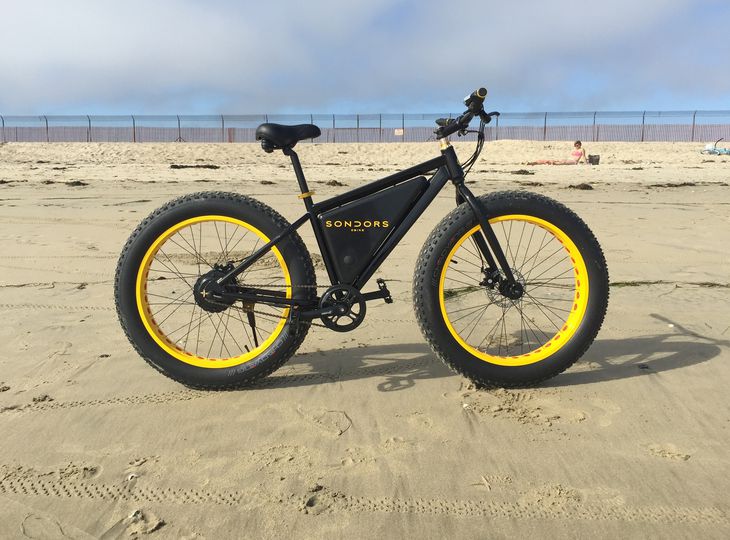 Details
2 ebikes available (yellow and black)
With its spectacular, knobby, all-terrain tires, SONDORS Original provides all-around comfort and sturdy confidence. Whether you're commuting to work, meeting friends, or out exploring nature, SONDORS Original steals the show. This eye-catching versatility matched with the lowest price tag in the industry has led SONDORS Original to become one of the best-selling electric bikes in the United States. 
 FRAME
SONDORS Original durable aluminum, 17.75" frame is one-size-fits-most with the maximum load capacity of 300 lbs. 
 BATTERY
SONDORS Original includes a 36V 8.7 Ah lithium-ion battery and charger. 
 MOTOR
SONDORS Original totes a 350W motor, providing more than enough to power your daily commute, a cruise on the beach, or a meander along your favorite trail. And with speeds up to 20 mph, SONDORS Original will get you there swiftly.
7-SPEED SHIFTER 
Genuine Shimano® 7-Speed gear cassette with grip shifter. This feature gives SONDORS Original an additional 7 gears for increased hill-climbing power, further range variation, and greater terrain adaptability. It's like getting two SONDORS in one.
 TIRES
SONDORS Original is a showstopper - and its legendary, all-terrain tires are more than the reason. Measuring in at a chunky 26 x 4.9 inches, SONDORS Original tires keep it sturdy and versatile while conquering pavement, sand, dirt or snow.
 LCD SCREEN
SONDORS Original comes standard with LCD screen upgrade - this feature supplies five levels of electric pedal assist plus added torque for increased hill-climbing power, greater range, and improved towing capacity. In addition, the LCD screen provides a digital display offering accurate battery level, speed and distance traveled.
 RANGE
With the use of the included SONDORS Original 36V 8.7 Ah lithium-ion battery along with electric pedal assist, many riders can experience a varied battery range of up to 25-40 miles*. When using straight electric power (without pedaling), the range can fluctuate to up to 20 miles*.
*Range estimates are contingent upon rider and towing weight, riding style, wind speed and terrain. 
 WEIGHT
SONDORS Original is built with endurance and adaptability in mind. It means business with its aluminum frame, all-terrain tires, and readiness to vanquish nearly any landscape. SONDORS Original has been known to inspire confidence as it rolls in with conviction at a total approximate weight of 60 pounds
Damage Insurance
Instant optional damage insurance can be purchased at time of checkout. This covers you for any accidental damage while using SONDORS Electric Bike (Fat Tires). No damage deposit required.
Availability
FAQs
Nothing here yet.
Not finding an answer to your quesion about this item? Ask George G. directly:
Return instructions
Drop off at the UPS Store at 601 Van Ness Ave. 8am-6pm on weekdays. 10am-2pm on Saturday. Closed on Sunday
.