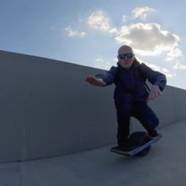 Mike L.
1 items |
Seattle, WA, USA
Email verified
Phone # verified
ID verified
Photo verified
Response rate: 93%
Usually responds within 30 minutes
---
1
late cancellation out of 10 bookings received
Mike L.
1 items |
Seattle, WA, USA
Reviews
What a great time! This board took me up steeeeeep hills w/ np, hella fast uphill!! Got abt 8 mi range. Mike was super friendly and flexible; twas a cheap & ez way to try something new before buying. i highly recommend!

Mike was really great and his board was in top condition. I had a lot of fun riding it this weekend and he even went out of his way to pick it up from me - thank you!
Mike's items