5 Best Beginner Snowboard Models You Need to Check Out
Few sporting activities are as exhilarating and adrenaline-inducing as zipping down a snow-laden slope on a snowboard.
Of course, the learning curve in snowboarding can seem daunting. But once you shortlist the best beginner snowboard models, and pick the right snowboard, this sport gets much easier. And that's because snowboarding is rather peaceful. There's hardly any friction and soon, you'll feel so relaxed and energized.
Buying a new snowboard, however, can simply be confusing. This is due to the availability of an assortment of sizes and shapes in the marketplace. And when you consider the various stats and specs, and analyze what they all mean, you will be left wondering which snowboard will feel the best to ride.
Hopefully, this list will simplify the process for you.
#1 K2 Standard — Master the Snowboarding Basics Fast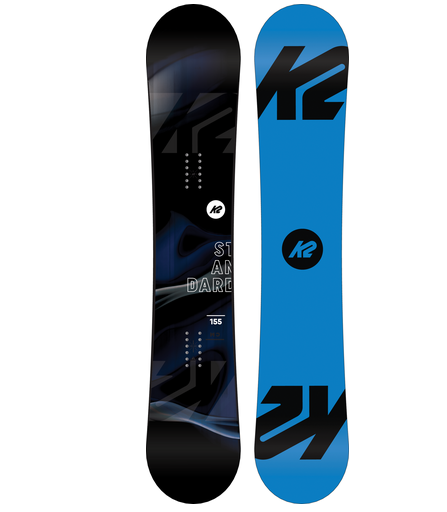 Image Credit: https://www.k2snowboarding.com/en/mens/snowboards/k2-standard-1819.html
Don't let the unassuming name mislead you because the K2 Standard is not an ordinary snowboard. This all-terrain master snowboard sets the bar really high. Suitable for any terrain and conditions, the K2 Standard will perform anywhere on a mountain—backcountry, groomed runs, even park and pipe.
The stance is setback and the sidecut is twin. A sturdy wood core runs from tip to tail. The directional shape is combined with the brand's patented Hybritech™ construction and the advanced Catch-Free Rocker Baseline™. This formidable blend gives you a smooth and easy-to-turn ride and pushes you toward quick progression.
The K2 Standard will last until you progress to the intermediate level. This snowboard comes with a 3-year warranty.
If mastering the snowboarding basics quickly is important to you, then the K2 Standard's solid and predictable ride will fulfill your expectations. And once you have progressed to the next level, you'll find this snowboard pretty useful then as well.
#2 Arbor Foundation — Stay Up Much Longer and Maintain Phenomenal Edge Control in Any Terrain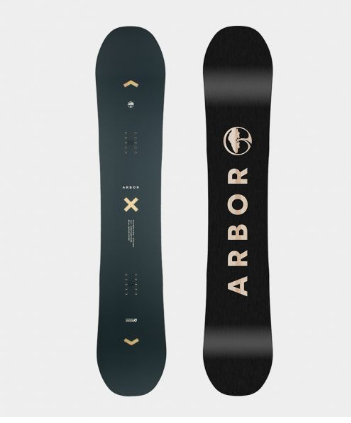 Image Credit: https://www.arborcollective.com/us/snowboards/snowboards/mens-snowboards.html/
Arbor is a brand name associated with quality, sustainable materials, performance, and the preservation of the planet's eco-system. The company is renowned for its commitment to craftsmanship and produces the world's best snowboarding products.
Arbor Foundation is a fully symmetrical board. It's a mountain twin that's perfect for switch riding. This quality-made, entry-level snowboard is ideal for taking your snowboarding skills to the next level. Like the K2 Standard, this snowboard also comes with a 3-year warranty.
Arbor's signature blend of Parabolic Rocker with Grip Tech contact points permit you to transition in and out of turns easily. Also, this board allows you to maintain phenomenal edge control in any terrain.
The Foundation's Single Malt Core is made using 100 percent sustainably grown poplar which is a fine testament to the brand's values of craftsmanship and environmentalism.
The top sheet is so clear that you can see the beautiful wood core underneath. This feature gives the Foundation a unique, natural look. The Rocker profile will help you stay up much longer than other boards. And this board will enable you to enjoy snowboarding all day with greater control and minimal falls.
1. Arbor's standard wood core guarantees reliable return and lasting durability. Carefully made from 100 percent sustainably grown Poplar wood.
2. A well-defined biax over biax lay-up design that's suitable for street and park inspired all-mountain cruising. Creates a great platform for learning.
3. A rugged, user-friendly extruded base that provides lighter-weight performance.
4. A fully wrapped, 360-degree sidewall that removes the need for tip fill. Despite this, the whole snowboard is effectively tied together. A technology you can count on to deliver tight tolerances for better board life and durability.
5. Proven all-mountain function in a variety of snow conditions.
#3 Burton Instigator — Shorten Your Learning Curve and Go Straight to the Fun Part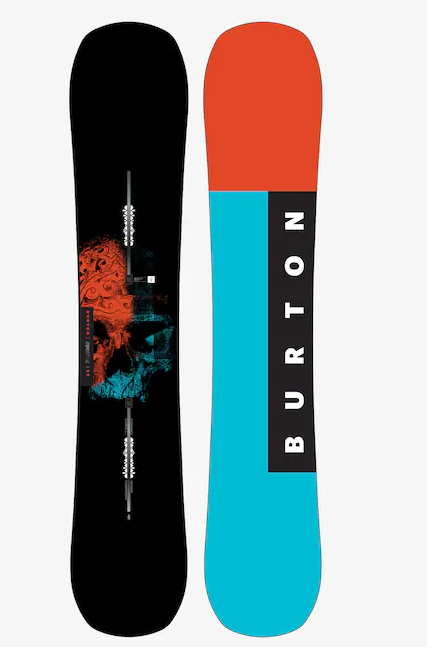 Image Credit: https://www.burton.com/us/en/p/mens-instigator-snowboard/W18-106951.html
The Burton Instigator is an all-around board that shortens your learning curve. If you're looking for a snowboard that's catch-free and boosts your confidence easily regardless of where you take it, then the Instigator is the perfect fit. You can go straight to the fun part with this board and enjoy a no-fuss feel.
The Instigator accelerates the learning curve and instigates a fabulous time from the first moment you step on the mountain. The combination of the proven Flat Top™ bend and the unique Cruise Control convex base keeps the snowboarding experience friendly. This blend creates a catch-free feel that maintains better stability and control. Also, the Channel® mounting system presents you the simplest, most adjustable setup with snowboard bindings from every major brand (not just Burton's).
Although the Instigator was launched only during the last season, it has quickly become one of the favorite beginner-friendly boards. This board is a great option for all first-timers because of the slight improvement in tech from the Ripcord and a cooler graphic that's more appealing to the older crowd. The catch-free ride allows you to master edge-to-edge control faster with far fewer wipeouts.
The most useful feature of the Instigator is its slight taper that helps in keeping you pointed in the right direction. Other key features include the Extruded Base that's easy to care for and the Biax Fiberglass for a soft but snappy flex.
And like the K2 Standard and Arbor Foundation, the Burton Instigator also comes with a 3-year warranty.
#4 Salomon Sight — Make a Hassle-Free Entry to Snowboarding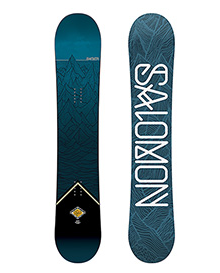 Image Credit: https://www.salomon.com/en-us/shop/men/snowboard-equipment/boards.html
Salomon's passion for outdoor sports since 1947 is evident in their new technologies and craftsmanship. This brand creates progressive snowboarding gear that enables you not only to freely enjoy but also to challenge yourself.
The Salomon Sight is another best beginner snowboard in the mountain snow sports universe. If you are serious about making a hassle-free entry to snowboarding, then this is the right board for you. You can easily guide this soft flex snowboard into the turns. Unlike other boards, this one features a rocker/camber/rocker profile that's a better fit for all-mountain or on trail conditions.
The Sight is a twin shape and is ideal for all kinds of snowboarding. You can do everything in this all-mountain board—from ripping icy groomers to learning the ropes in the park. And you can rip a big pow slash even on the deepest day of the season. The directional flex of this board lends stability and power at higher speeds and helps you push your limits. The twin tip design empowers you to land switch easily.
Despite its lower price, the Sight cuts no corners. A responsive Aspen core that is solid and durable is sandwiched by damp fiberglass. This design helps you enjoy a chatter free and controllable ride. The durable extruded base is capable of taking a beating on rocks, rails, and stumps and continue going.
And the Sight is really a steal because you get a 2-year warranty.
#5 Ride Machete — Build Confidence with Superb Balance and Control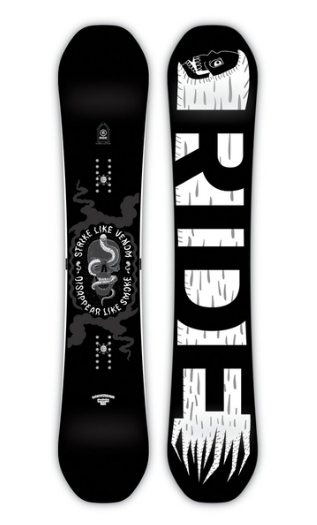 Image Credit: https://www.ridesnowboards.com/en/mens/snowboards/machete-1819.html
The Ride Machete is the perfect snowboard for you if you want to take on any terrain without compromising on speed. Don't worry about damaging this board because it's sturdy enough to handle any level of abuse. And when you progress to the stage of performing risky tricks, the Machete will provide you with superb balance and control.
The Machete is great at high speeds with no chatter, and you also get decent edgehold. This board carves through groomers smoothly and charges through choppy snow gracefully. You can ride it through deep powder and it simply tears through icy conditions. You can transition from edge to edge even at high speeds with ease. You'll get more pop with this board and it's surprisingly lightweight.
Overall, the Ride Machete is simply exquisite for beginners. This board offers you great flexibility and absorbs shock better than most boards. Your riding experience and love for snowboarding will improve five-fold or even ten-fold in quick time. Expect to build confidence within the first hour of riding the Machete.
And like the K2 Standard, the Arbor Foundation, and the Burton Instigator, the Ride Machete also comes with a 3-year warranty.
Useful Tips for Board Sizing:
You have seen the best attributes of the 5 best beginner snowboard models. But the most important aspect is picking the right size. After you make up your mind about the right model, board sizing is perhaps the toughest decision.
So what's the secret formula for picking the right size board?
A combination of your height, weight, and boot size determine the right size board for you. In fact, your weight and boot size matter a lot.
While most people follow a simplistic method to estimate board size—the height of the board to be from their chin to the bridge of their nose—it's not always right. As the saying goes, your board does not know your height but it can sense how much you weigh. Hence, if you plan on riding mostly freestyle (jibbing, spinning, or hitting freestyle features), it's better to pick a slightly shorter board. But if you plan on riding mostly freeride (high-speed, big mountains, charging turns), it's advisable to pick a slightly longer board.
The recommended weight range you find on the size chart of the specific model is fairly open. Your weight may not be right at the center of the suggested range. It may either be on the lighter side or on the heavier side of the recommended range. That isn't a problem. Please understand that if you are lighter, the board will feel stiffer. But if you are heavier, the board will feel softer. If your weight is right in the center of the recommended range, the board will flex just as the company engineers designed it.
Before you buy, rent a few different snowboard sizes of the same model. You will really feel the difference that board size makes.
Now you know a few tips on finding the right board. Be sure to also check on the best beginner snowboard tips. Keep an open mind and have fun!