7 Best Beginner Snowboard Boots You Need to Check Before You Buy
Boots.
Your most personal item of snowboard gear without a doubt because they remain in constant, intimate contact with your feet.
No two people's feet are identical. The differences range from narrow heels, wide heels, webbed toes, wide set toes, structural flat foot, and more. Hence, if anyone claims to know the best boots for you before you have even tried them on yourself, don't believe them. But you still need to be aware of some loose guidelines.
As you start moving up the price range, your money presents you access to lighter materials, improved stability and support, and more performance orientated features such as speed lace solutions and better-designed liners. The costlier boots are also stiffer. However, as a beginner, you need to ask yourself if you really need this type of competition-level boots.
With this point in mind, let's take a quick look at some of the best beginner snowboard boots available today.
#1

Burton Moto

— High Quality at a Competitive Price Point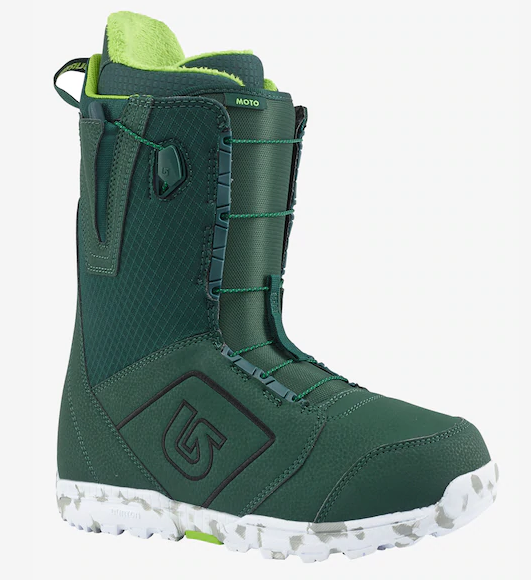 Image Credit: https://www.burton.com/us/en/p/mens-moto-snowboard-boot/W18-104361.html
The Burton Moto has the right amount flex in it to be super comfortable—not too stiff nor too soft. You'll love these boots because they are super lightweight. And they are super easy to tighten and loosen. You'll also feel comfortable walking around in them. You can confidently use just one pair of socks during the entire day of snowboarding, and even then, your feet will remain warm and dry. That's because the lacing is great—you can tighten the top and bottom of the Moto separately.
The world's bestselling boots come without uncomfortable points and hot spots. Once you get familiar with the Burton Moto's quick release laces, you'll realize it's rather simple to adjust and tighten on the mountain. Even though this warm and comfortable boots fit true to normal shoe size, you could perhaps go up a half-size from the size you normally wear if you use thick socks.
Boot Fit

Total Comfort Construction – Gives you a broken-in feel instantly. The comfort level on Day 100 is the same as it is on Day 1. Normal width to Mid-wide feet.

Technology

1. Sleeping bag reflective foil technology reflects heat back to your feet.

2. EST® optimized provides you a more direct connection to your snowboard.

Features

1. Snow-proof internal gusset keeps your feet dry.

2. DynoLITE Outsole provides superior cushioning.

3. Highly shock-absorbent Level 1 Molded EVA Footbed.

Lacing System

Speed Zone™

Price

$139.96 – $199.95

Ability Level

Beginner–Intermediate

Warranty

1 Year

Flex Rating (1 Soft – 10 Stiff)

3 – A soft, forgiving flex that's perfect for rookie riders keen on progressing their skills.

Comfort Score (1–10)
#2

Vans Encore

— Reliable Comfort to Excel Everywhere on the Mountain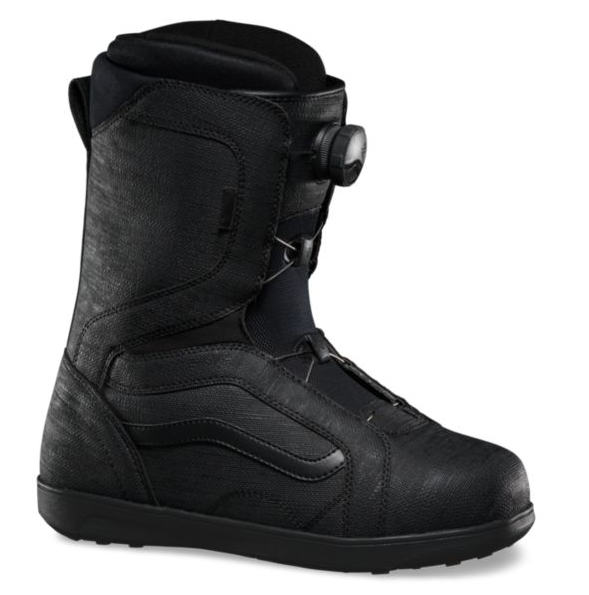 Image Credit: https://www.vans.com/shop/mens-encore-snowboard-boot-black-gum#hero=0
Say goodbye to painful feet.
The Vans Encore is synonymous with classic style and contemporary technology. You get everything from this proven best beginner snowboard boots—forgiving flex, great fit, and an easy closure system that's fast.
If you're looking for reliable comfort and quick function so that you can focus on honing your snowboard skills without any equipment hassle, you will love the Encore. These boots will enable you to hit both the backcountry and the park on the same day as they have the perfect fit and feel to excel everywhere on the mountain.
The Boa Coiler lacing system makes it simpler for you to get the Encore boots as tight and comfortable as you want them to be. And you can rest assured that they will not loosen up through the day. Above all, the Encore is equipped with a special Heat Retention feature that retains the warmth around your feet and keeps the cold at bay.
Boot Fit

Internal Web Harness – Easy function is the best type of function.

Technology

1. Heat-moldable V2 Footbed and Flex Liner – both are made of UltraCush™ Lite foam for unmatched comfort and impact absorption.

2. Nylex moisture-wicking top sheet.

Features

1. Reverse Waffle Outsole provides optimal traction and snow release.

2. Instep Flex Zone for superior flexibility when you're strapped in.

3. One-piece rubber cupsole gives you maximum board feel.

Lacing System

Vans Boa® Coiler™

Price

$187.99

Ability Level

Beginner–Intermediate

Warranty

1 Year

Flex Rating (1 Soft – 10 Stiff)

4 – Perfect for moderate support, freestyle freedom, and surfy turns right through the season.

Comfort Score (1–10)

9.21
#3

Adidas Tencza

— Authentic Adidas Style and Super Comfortable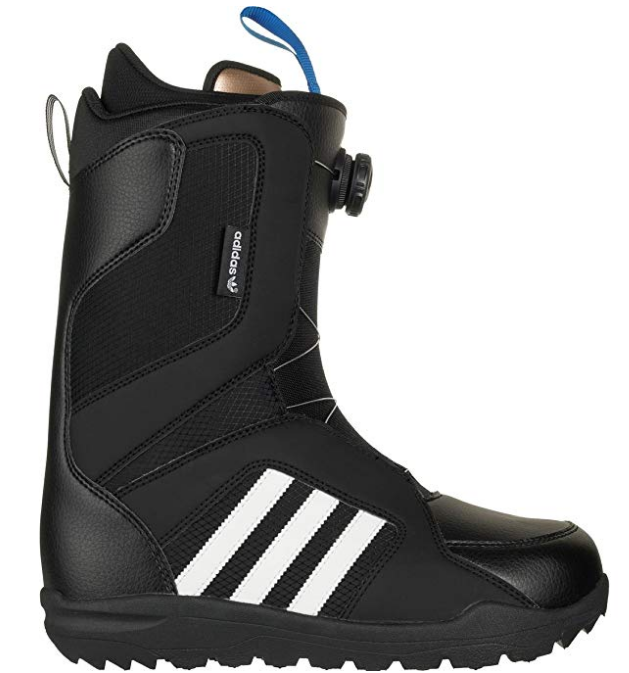 Image Credit: https://www.amazon.com/Adidas-Tencza-ADV-Snowboard-Boot/dp/B0778PL1WC
The Adidas Tencza is inspired by the Adidas heritage and built for performance. These boots are another affordable, yet performance-oriented best beginner snowboard boots. The Tencza is the result of the brand's team of designers and snowboarders working closely to deliver a superior product. These boots are Adidas' entry-level Boas, and they are perfect for beginners.
The new EVA outsole shaves off a few grams making the boots a bit lighter. The Tencza gives you superlative cushioning without compromising on support and comfort. The sturdy ankle harness makes certain that the foothold is on point. There's no chance of slippage because your feet are held securely. The Single Boa lacing system permits you to slip on these boots faster and make swift on-the-go adjustments for a better fit. Perfect to go with your new snowboard rental.
Boot Fit

A comfortable medium-soft flexing boot that offers you just enough response for fast riding; forgiving in the park.

Technology

1. Bronze Level Liner: Dependable heat-moldable EVA and polyurethane liner for a personalized fit.

2. Molded EVA sock liner and inner ankle harness for support, comfort, and ankle protection.

Features

1. Lightweight EVA Foam and Rubber Outsole that are vibration and impact absorbent.

2. Plush 3D-molded tongue offers you a uniform flex for a natural feel.

3. Upper Material: synthetic, textile.

Lacing System

H3 Boa® Coiler™

Price

Ability Level

Beginner–Intermediate

Warranty

1 Year

Flex Rating (1 Soft – 10 Stiff)

4 – Secure fit with progressive and playful flex.

Comfort Score (1–10)

9.20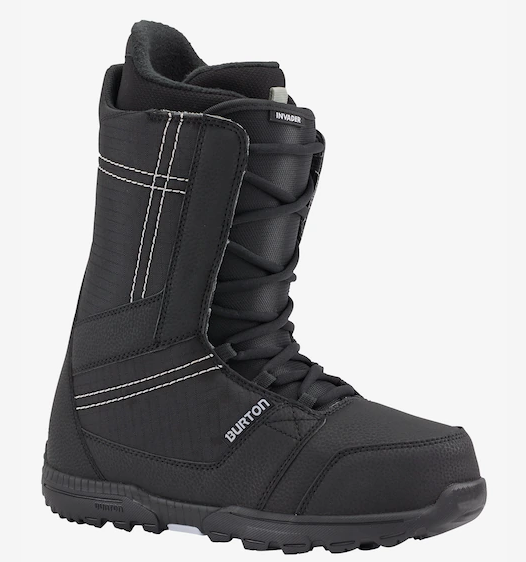 Image Credit: https://www.burton.com/us/en/p/mens-invader-snowboard-boot/W18-106511.html
The Burton Invader is the company's softest flexing option that aims to keep you out on the mountain for a long time. These boots are simple, comfortable, and designed to last. The best feature of the Invader is the snow-proof design that keeps your feet dry and warm even on the deepest days.
The Invader is possibly the easiest boot in the snowboarding universe that empowers you to make each day a memorable one. The soft flexing support of these boots gives you total comfort that permits you to take over the entire mountain. You'll experience a totally different level of comfort when you lace up these best beginner snowboard boots. The Soft Flex Tongue minimizes fatigue and enhances comfort.
The heat-moldable imprint liner offers you a 100 percent customized fit. The exceptional footbed and outsole provide you unmatched cushion and improved board feel allowing you to stomp the big landings.
Boot Fit

Total Comfort Construction with proven snow-proof Internal Gusset. Soft flexing boot designed for comfort and progression.

Technology

1. Shrinkage™ – Burton's latest footprint reduction technology.

2. DynoLite Outsole – Made of a cushioning compound that withstands repeated impacts and freezing temperatures.

Features

1. Highly-shock absorbent Level 1 Molded EVA Footbed.

2. Snow-Proof Internal Gusset.

3. Imprint™ 1 Liner with Integrated Lacing.

Lacing System

Traditional Lacing

Price

Ability Level

Beginner–Intermediate

Warranty

1 Year

Flex Rating (1 Soft – 10 Stiff)

2 – Very Soft, most forgiving boot for a beginner rider.

Comfort Score (1–10)

9.18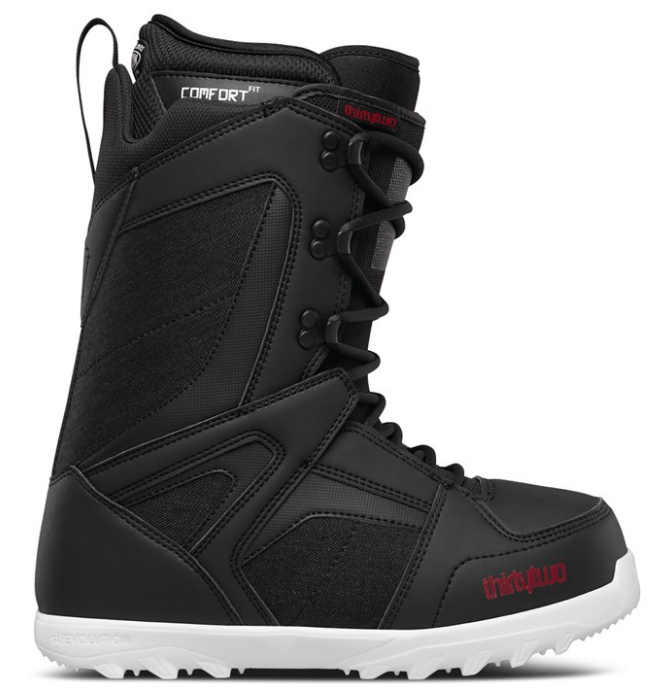 Image Credit: https://www.evo.com/outlet/snowboard-boots/32-prion
If improving your riding is important to you, the only way you can do it is by spending whole days on the slopes. And this means your feet need maximum comfort. You can trust the cushioning Evolution Foam outsole and the heat-moldable Intuition liner of the thirtytwo Prion to not let you down in this area. The soft, uniform flex and internal lacing hold your heel in a cradled, supportive fit. As a result of the optimal heel hold, your board control and response improve fast enabling you to make the moves you always dreamed of!
The Prion is not just style and comfort in an ultra-light package. The tough tread of this boot's rubber sole will ensure you retain your footing as you walk over icy parking lots and slippery slopes. The traditional lacing system allows you to make precise adjustment for a comfortable fit.
Boot Fit

The soft flex offers supportive comfort, and the molded footbeds provide cushioning and warmth.

Technology

1. STI Evolution Foam™ Outsole – Lighter with uniform cushioning.

2. 3D Molded Tongue – For simpler lacing and an even flex all over.

Features

1. Level 1 Footbed: Lightweight for optimum performance.

2. Level 1 Liner: 100 percent Heat Moldable Intuition liners.

3. Internal anatomical foam overlays for most favorable heel hold.

Lacing System

Traditional

Price

Ability Level

Beginner–Intermediate

Warranty

1 Year

Flex Rating (1 Soft – 10 Stiff)

1 – Soft

Comfort Score (1–10)

9.16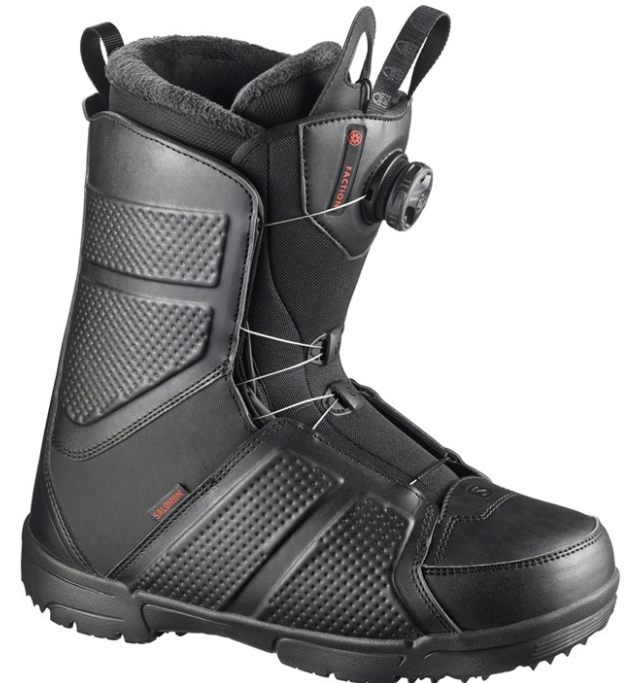 Image Credit: https://www.evo.com/snowboard-boots/salomon-faction-boa
Time is precious!
There's simply no point in wasting any time tying your boots up. Anyhow, it's always nice on a cold day if you can tighten up your boots in quick time. Enter the Salomon Faction BOA. The Boa lacing system of this best beginner snowboard boots is simple and fast.
While it's true that professional riders still require laces as they need to have their boots really tight, that's not the case for the rest of the snowboarding universe. The Boa system would be perfectly right. You simply push in the housing button to tighten your boots. Then you turn the dial slightly until you get the fit you desire.
The Ortholite footbeds of the Salomon Faction BOA create a drier, cooler, healthier, and better cushioned surrounding for your feet. They don't lose their shape over time but remain comfortable and cushy ride after ride.
Boot Fit

A Soft Flex paired with the simplicity and speed of BOA provides you all day comfort that keeps you exploring.

Technology

1. Full EVA D-Light Outsole is low profile, light, and features extra gridding below the heel.

2. Heat moldable Gold Liner featuring Custom Fit Pro.

Features

1. Ortholite C1 Footbed for a better-cushioned environment.

2. Thermo-moldable Liner: Custom Fit foam

3. Internal Lacing System: Quick-Pull

Lacing System

BOA closure system allows fast and easy boot tightening.

Price

Ability Level

Beginner–Intermediate

Warranty

1 Year

Flex Rating (1 Soft – 10 Stiff)

1 – Soft Flex: Optimal for a rider who's keen on progressing.

Comfort Score (1–10)

9.14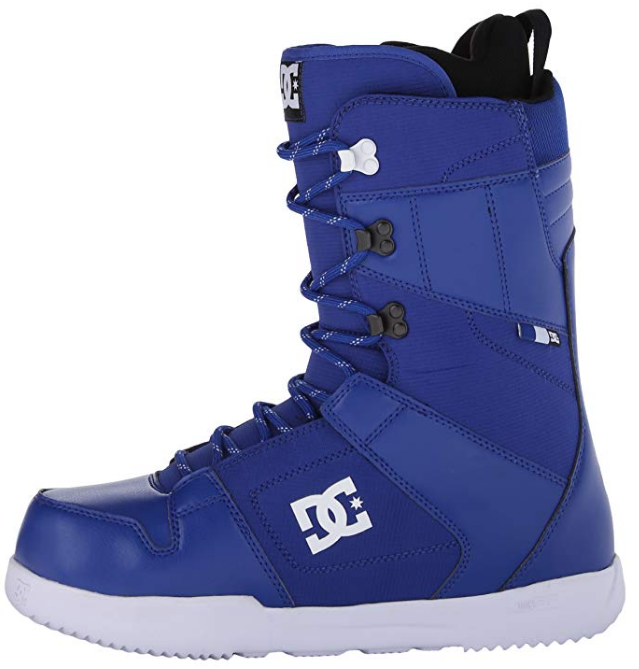 Image Credit: https://www.evo.com/snowboard-boots/dc-phase
If you want to go from a newbie to intermediate snowboarder in no time, then the DC Men's Phase Lace Up is the right choice. That's because these boots fit like a glove and provide solid heel support. You can ride the board on the toe edge without jamming your toes or without your feet sliding to the front of the boots. The laces hold fine without slipping or coming loose.
The Phase's lightweight outsole provides essential durability and unparalleled cushioning while reducing weight drastically. The weight of the boot is distributed uniformly, and the sole is super light. These boots are really comfortable because the soft lining molds perfectly to your feet as you use them, which is nice. If you pick the correct boot size, you can be confident of not getting any blisters or sores on your feet even if you stay out on the slopes for more than 8 hours.
Boot Fit

Traditional lacing permits you to dial up the perfect fit that's the most comfortable for you.

Technology

1. Made of 100% Unilite™ Foundation Outsole.

2. Multi-layer construction that features EVA memory foam.

Features

1. Insole: Snow basic insole covered in moisture wicking cloth.

2. Lining: Red Liner.

3. Closure: traditional lace-up style.

Lacing System

Traditional

Price

Ability Level

Beginner–Intermediate

Warranty

1 Year

Flex Rating (1 Soft – 10 Stiff)

5 – Medium flex balances control with comfort.

Comfort Score (1–10)

9.12
Summing Up:
Once you're on the mountain, so much depends on your boots—they can make or break your day. So don't skimp here. It pays to spend some extra time and money getting the perfect fit, and try them out first and rent some snowboard gear or at FriendWithA you can also earn money renting out your snowboard! Remember, your boots must fit correctly, comfortably, and work smoothly with your bindings.
Socks play an important part too. Although they seem trivial, the right socks can make a huge difference in comfort as well as performance. Avoid cotton socks because they don't wick moisture away. Instead, use snowboard specific socks that wick moisture away from your feet and keep them warm.