7 Best Snowboards of 2021
Whether you're vying for a powder board for some backcountry craziness, an all mountain freestyle for attacking the whole park, a board to jib on or you are hoping to snatch up a sweet beginners board, we can help you pick your best fit for the 2021 winter season.
1. Burton Ripcord Snowboard 2021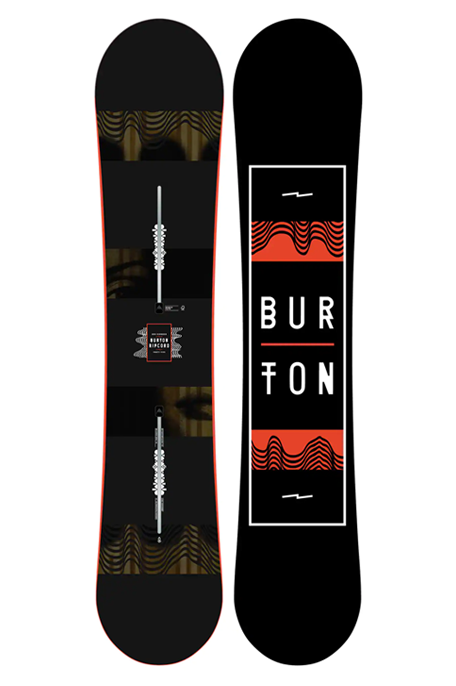 credit@the-house.com
Type: Beginners
Price: $379.95
Why it's great
Burton is a giant in the snowboarding world, and have been heavy in the scene since the first snowboards hit the mountains. They make high caliber boards that don't disappoint.
This directional 5mm Taper flex beginners board has a strong nose and a sweet bit of movement in the tail so the rider can easily control and balance on it, in all terrain. The board's Easy Bevel shape makes for a soft board and its convex base with a FSC™ Certified Fly 900G wooden core equals a ride that has as much pop as it does flex. It is laminated with Biax™ Fiberglass which means jibbing can be on your agenda and the extruded base doesn't need much maintenance each time you use it. This snowboard also has multiple binding capabilities with The Channel® Mounting System. All major Bindings, not only Burton's can be used with it which is super useful. If you want to learn more about beginner snowboards, you should read the 5 best beginner snowboards you need to check out.
Conclusion
The Burton Ripcord Snowboard 2021 is an awesome all mountain board for beginners who want to try their hand at a range of terrains in a ton of different conditions and a fun board for those who love to jib. Did you know you can find tons of snowboards to rent on Friendwitha? Why not try out a Burton snowboard rental with your friends from one of our verified, trustworthy community members before you splash out on a new board.
2. Never Summer Swift Snowboard 2021

Type: Powderboard/freeride
Price: $619.99
Why it's great
Never Summer are a brand famed for their top craftsmanship. They've been building and designing boards more than 35 years and are a top choice for boarders who want durable, high performance boards.
So, for those that love the feeling of surfing the pow, the Never Summer Swift Snowboard 2021 isn't going to disappoint! This pow shredder has a flex rating of mid to firm. With its Fusion Rocker Camber + Early Rise Nose it means you can cut easily through the pow but not lose your line or any stability in hardpack snow. With a poppy NS Superlight Wood Core and extended transition area, turns are maneuvered with ease. Made using the best STS Pretensioned Fiberglass in the snowboard world, this board has a strength to it that is hard to break, even when facing a messy wipeout. The Sintered P-Tex Sidewalls are pretty much uncrackable too.
Conclusion
This is an awesome, solid piece of board that holds its own in loose and compacted snow. It's not cheap, but it's an investment in performance and durability that will see you through the 2021 season and way beyond.
3. Jones Storm Chaser Snowboard 2021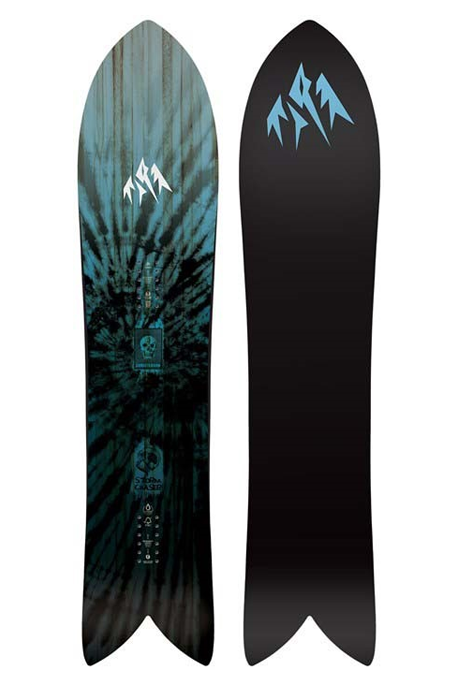 credit@snowsurf.com
Type: Powderboard/ freeride
Price: $599.95
Why it's great
As a company Jones has always focused on backcountry riding, so its Storm Chaser boards are famed for their dedication to making snowboards that cut through loose pow like a dream.
The Jones Storm Chaser Snowboard 2021 has been designed with a blunt nose so that it can float through fresh pow unscathed. Complete with a FSC® Bamboo Surf Core for sharp turning power and easily controlled edge response, it's a board for riders that want a snappier ride. Get ready to slice through the slopes with the Traction Tech 2.0 edges- yet another feature that makes riding the Storm Chaser so clean and responsive. Cut some original lines across the slopes with ease and make the backcountry your playground with this board!
Conclusion
If you're planning on shredding the gnar through the backcountry, the Jones Storm Chaser Snowboard 2021 could be the sharp, fun and responsive board for you. It's also environmentally friendly with a load of its parts such as the Eco-Plastic Topsheet being made from recycled or eco-materials.
4. Lib Tech EJack Knife HP C3 Snowboard 2021

Type: All-mountain/freestyle
Price: $599.95
Why it's great
Lib Tech is a company passionate about designing and building snowboards with an eye on efficiency, environmentally friendly materials and processes. They believe their boards are for powder dreamers who dare to make their dreams a reality.
The Lib Tech Ejack Knife HP C3 Snowboard 2021's C3 camber profile is the core to this board's powerful yet steady nature. Its directional shape and extended nose allows for it to glide easily through powder, nail hardpack and attack the air like a boss too. This board is a directional all-mountain and freeride board with Magne-traction edges that grip incredibly well. Its UHMW Sintered Sidewalls are twice as sintered as most sidewalls in the industry to increase control and response. Chatter will be reduced with the Bi-axial Fiberglass laminate, the Tri-axial Fiberglass ensuring a more stable, snappy ride. The topsheet is made from an awesome earth-friendly bean material boasting the leading top sheet highest strength-to-weight ratio you'll find out there.
Conclusion
This Lib Tech board is a sweet purchase to make for the rider who wants to be prepared for all terrains. It's snappy, powerful and stable and the camber profile benefits the more aggressive rider. If attacking groomed runs, powder and parks is your thing, this could be the board for you.
5. CAPiTA Ultrafear Snowboard 2021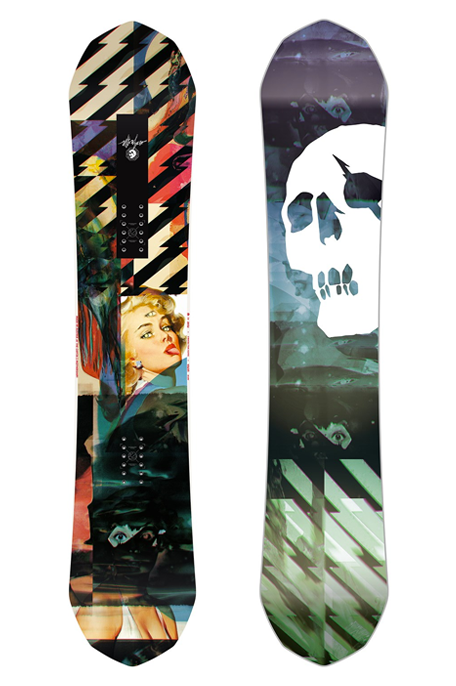 credit@evo.com
Type: Jibbing/Park/freestyle
Price: $479.95
Why it's great
MARS1, CAPiTA claim this 100% Hydro Powered Mothership Facility is the most ecologically responsible and most technologically advanced manufacturing facility in the snowboard industry, producing cutting edge, game changing boards.
The CAPiTA Ultrafear Snowboard 2021's zero camber section between the inserts plus its rockered tail and tip reduces the chances of catching the edges, so a smooth ride is always guaranteed. It's been built with Kevlar/Titanal Body Armor™ for a solid performance anywhere from rail spot to terrain park. The Holysheet™ Fiberglass + Magic Bean™ Resin – Triax/Biax Holysheet™ adds to this board's superiority in the durability stakes. For riders keen to ride the park dynamically and practising in the jib line, this is the one of the best jib boards for the 2021 season.
If you're keen to make an impact in the park then check out our simple snowboard box tips to make you ride like a pro - you can thank us later!
Conclusion
A sick board for jibbing, the CAPiTA Ultrafear Snowboard 2021 is perfect for time spent in the park. It turns sharply, is easy to spin and has gnarly ollie power. It delivers a super solid performance due to its high strength specs which are reflected in its high end price.
6. Warpig Snowboard 2021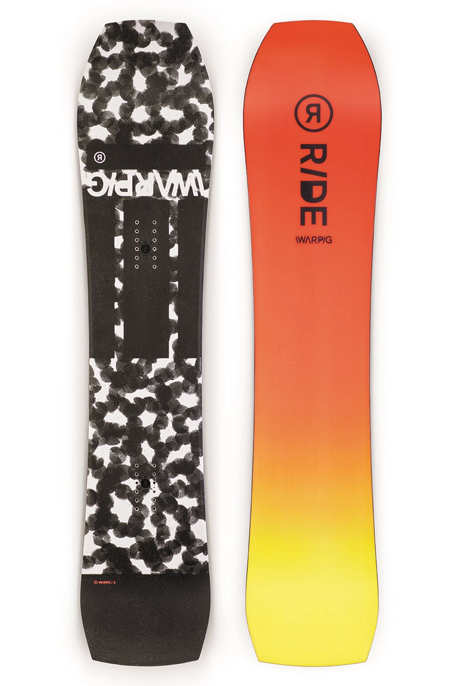 credit@tactics.com
Type: All-mountain
Price: $489.95
Why it's great
Ride Snowboards are the brains behind Warpig boards. This Washington based company started off in 1992 with an aim to create 'a snowboard company "for the people" built upon technical innovation, superior quality and "selling the dream." - according to snowfit.com. As a result, they build boards with their customers in mind, selling high performance boards with a dusting of powder magic.
The Warpig Snowboard 2021 has had several iterations before its 2021 season model, all of which have been hyped to the max by pros and amateurs alike. It is a fast directional rocker board with a Performance™ Core composed of high strength Aspen, Bamboo and lightweight Paulownia wood giving a lightweight yet strong board feel. It has excellent control thanks to the Carbon Array™ 3 Laminates technology and the perfect balance of flex and stiffness thanks to the Hybrid Glass top and base - for those moments when you need responsiveness at high speeds. Feel confident all over the mountain with this board in the 2021 winter season.
Conclusion
Get yourself involved in the Warpig legacy with the agile Warpig Snowboard 2021, well suited to badass all-mountain riding. It's an awesome, fun and stable ride with seemingly nothing it can't do - providing you've got some intermediate to advanced gnar experience under your belt, however. Beginners need not apply.
7. Jones Ultra Mountain Twin Snowboard 2021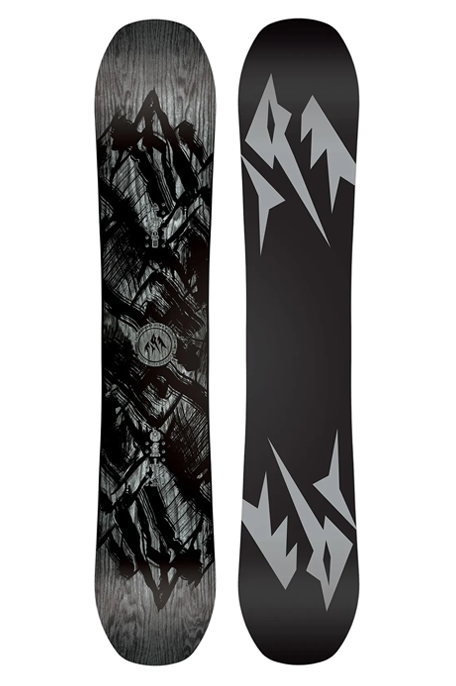 credit@tactics.com
Type: All-mountain, freestyle, freeride
Price: $599.95
Why it

's great
Hands up who is an aggressive freerider who doesn't like sticking to the tried and tested lines of the mountain? Introducing the Jones Ultra Mountain Twin Snowboard 2021, the perfect board for riders who want to rip fast and rip powerful. It's a very stiff board made from a triple-density full wood FSC™ Power Core guaranteeing added pop. Riders love the responsiveness that comes from the Triax Fiberglass laminate, making this board a true all-mountain favorite. It's pretty awesome that all Jones boards are made with oversized recycled steel edges for sustainability and extra board endurance too. The blunt nose means it can cut and float through snow without flooding the board with pow, something all riders an appreciate.
Conclusion
For the fearless riders out there who want to ride all-mountain without boundaries, the Jones Ultra Mountain Twin Snowboard 2021 is the board for you. Factory de-tuned at the tail and tip riders can head straight to the slopes fresh from the shop after they purchase any Jones model. This board is durable, solid and poppy, the perfect allie for attacking the pow.
All in all…
It's all pointing towards 2021 being a super exciting season for shredding! So whether you're interested in the beginner model courtesy of Burton, the sickest powderboarders, freeriders and all-mountain boards from Never Summer and Jones, the top all-mountain performers from Lib Tech and Ride Snowboard or the gnarliest jibber from CAPiTA, we've got the 2021 winter season covered for whatever rider needs you may have!
Looking to try out any of these boards or have one of the past seasons boards here? Well you can either earn money renting out your snowboard or you can rent a snowboard here on FriendWithA. Try out one of the boards and tell us which one is your favorite and why!