The 7 best electric skateboards of 2019
It seems like just the other day electric skateboards accelerated into the personal transporter market seeing skateboarders and tech heads unite in a mash up of speed, torque and tricks. But which e-skateboards are e-skateboard riders talking about in 2019? Read on to find out...
1. Onewheel Pint
Although not technically an electric skateboard, there is just no category for Onewheels and with it's amazing design, we just had to include it here. Fresh from Future Motion, OW Pint is the 23 lb e-board with self balancing technology, 10.5in x 4.5-6in OW tire, 6-8 mile range and a top speed of 16 mph. As with all Onewheels it specializes in owning challenging terrain, with the sick 30% max lean angle and grippy tire traction coming firmly into play.
Cost
$995
Quick specs
Check out this comparison Onewheel chart with Pint on the right.
The good
- As true to Onewheel form, Pint performs really well on gnarly terrain
- Cool safety features like the Simplestop dismount technology - great for beginners
- This one maneuvers way easier than the other Onewheels for dodging foot traffic
- Portable with integrated Maghandle for easy portability
The not so good
- Limited range, 6-8 miles is way less than the higher performing flagship OW Plus XR
- The 16 mph max speed isn't going to blow your Vans off
- Some of the accessories are kinda pricey like the $75 Pint Fender
Summary
It's not a riding experience for those with the need for speed, but with its inbuilt safety features and self balancing technology, it's a beginner's pint sized portable e-board that won't break the bank. You can get your hands on a OW Pint rental on FriendwithA and try before you buy.
2. Exway X1 Pro Riot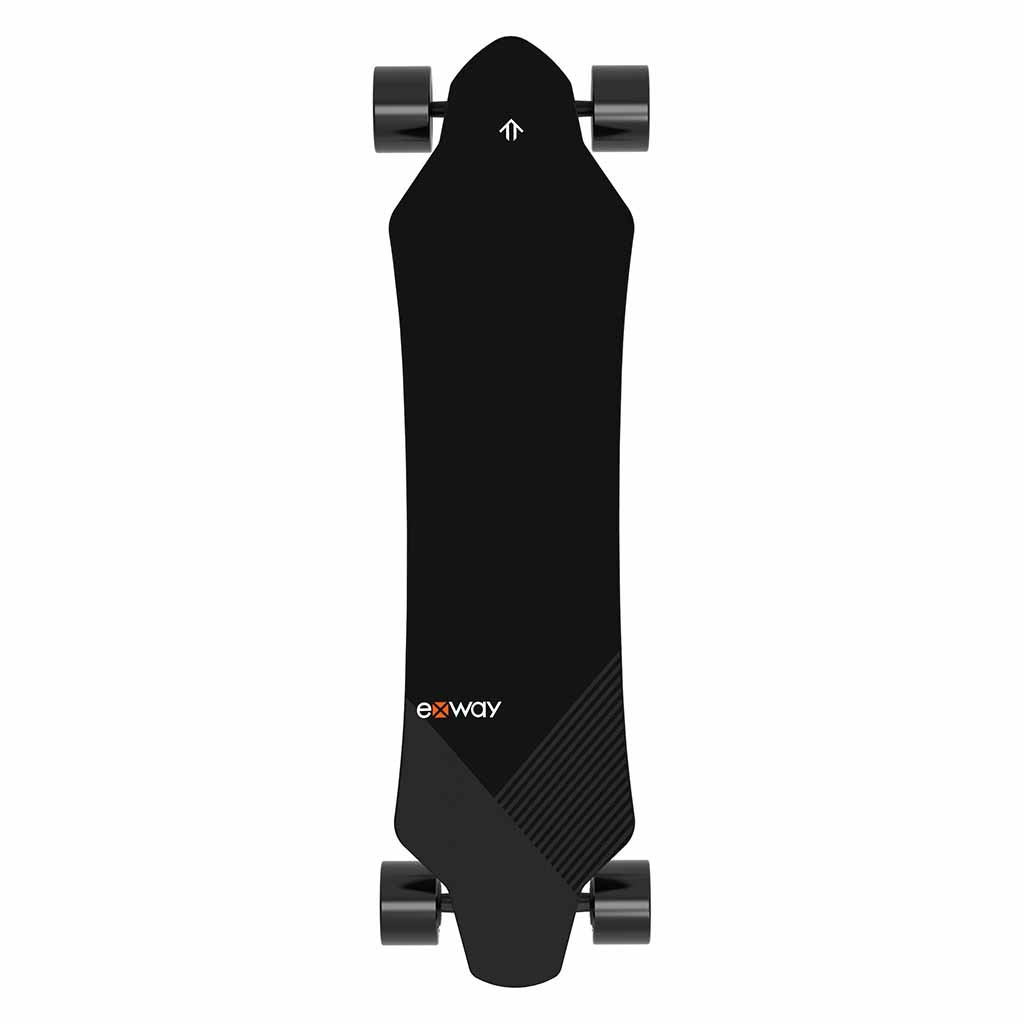 The Exway X1 Pro Riot is a beast to be reckoned with. With it's quick acceleration and great braking, top that with a 29 mph top speed and 16 mile range and you will see why people love the Exway.
Cost
$949
Quick specs

The good
- Goes very fast and super stable when riding at top speeds
- Crazy brake strength even when going top speeds
The not so good
- Room for app improvement. Some riders have complained over the app suddenly freezing the board while opening the app during mid use.
- Some complaints over the customer service and there being a no return policy
Summary
This has become a favorite board for many riders. With great acceleration and braking, throw in the range and top speed, and this is a force to reckoned with. Also you will find a slight discount over a comparable Boosted.
3. LaCroix Jaws
The Lacroix long range, pneu-only electric boards have changed. Their range has diversified since the prototype DSS50+ and DSS60 models with the recent offering of Lacroix Jaws™bursting onto the scene with a jaw dropping range of 24 miles, an unknown top speed (fast, very fast) and a weight of 29lbs. Hitting 2019 with such a premium priced premium performing piece of kit is just another day for the Canadian company. Lacroix Board Co. who designed the entry level Lacroix Jaws™with high performance in mind.
Cost
$2499 (if you choose the MBS Matrix2 Trucks option, $3048 with the Hypertrucks™)
Quick specs
The good
- Off or on the road, the tight handling, torque, grip and performance never fades thanks to the 8 inch Kenda tires mounted on some killer MBS Rockstar2 hubs
- The range is totally rad - that's 24 miles even with a 200lb rider
- If you're an aggressive rider and love pushing limits, the max speed is going to be your joie de vivre
The not so good
- The price is truly premium
- The 2.5 hour charge time is a big chunk of time to take out of a busy day on the move
Summary
This board is for those that really want a premium electric skateboard. With the range and top speed, you will crush any competition with this board. If you ever wanted to try a LaCroix out, try out a LaCroix electric skateboard rental on FriendWithA.



4. Boosted Plus
Yes, it's another Boosted board on the list. Why? Because they make darn good electric skateboards that people keep buying year in, year out. This time it's the third generation Boosted Plus has a Super Flex Composite Deck, a board weight of 17.0 lbs, a 24 mph max speed plus Boosted Stratus 85mm wheels.
Cost
$1399
Quick specs
credit@boostedboards
The good
- This board has two 1,000-watt DC motors which means sweet torque and great power on inclines
- The expertly tuned motors mean acceleration and braking are fast and oh so smooth
- The wireless controller is robust, responsive and better than a majority of remotes on the market
The not so good
- Riders might expect more range for the price
- The price point is pretty high, pricing out some e-skateboarders with less disposable income
Summary
Boosted is a force to be reckoned with and makes top quality boards with amazing customer service. The only downside is riders expect more when the board is priced at such a premium.
5. RazorX Cruiser Electric Skateboard
The RazorX Cruiser is a popular choice in 2019 as an introductory board for riders aged 9+ thanks to its soft-start kick activated technology seeing the motor slowly ramp up to max speeds of 10 mph. No chains or belts with this board, it's geared 125-watt, rear-wheel-drive motor delivers a responsive ride. Measuring 29.7" in length, the board proves a stable ride with its 83mm 80a PU cruiser wheels, perfect for beginners. Check the RazorX Cruiser out in action.
Cost
$239.99
Quick specs
The good
- The reverse kingpin trucks and high-grip urethane wheels make for a stable and safe ride
- Very affordable price point making it a great e-board to buy for kids/teen
The not so good
- Battery life is only 40 minutes of continuous use
- Max speed of 10 mph is a drag for some e-boarders
Summary
Overall it's a great starter board for adults and kids to get involved with without the worry of earth shattering top speeds or unholy wipeouts The price point also makes it a great option for those on a budget who still want to have some electric skateboard fun and its lightweight form means its totally portable.
6. Evolve Bamboo GTA All Terrain Electric Skateboard
This 38" bamboo electric longboard from the Evolve Bamboo GTA series is made from Canadian maple hardwood providing midi flexibility. It's a smooth ride with the Super Carve Trucks facilitating a gnarly carving, cruising and uphill riding experience - one of the main reasons for its popularity. It can carry riders up to 220 lbs and has 4 different riding modes to suit any rider's needs.
Cost
$1899.99
The good
- This board can go as far as 20 miles on a single charge
- The all-terrain wheels can handle a variety of surfaces easily, so switching from concrete to gritty surface doesn't spoil the smooth ride
- The combination of the powerful 300-watt motors and the oversized battery provide awesome power to mean that steep inclines are a breeze
The not so good
- The price could be a deciding factor for many
- Braking can be a bit sketchy after you've topped out the board's max speed
Summary
As a high performance electric-skateboard it gives power, speed and torque to those looking for a faster ride. A must for off-roaders and more aggressive riders, the Evolve Bamboo GTX All Terrain Electric Skateboard is built for the fearless with a need for speed - beginners beware.
7. WowGo 3X

This board has been called, "Amazing", "Powerful", "Suprisingly Impressive". With it's very powerful, insane acceleration, shock resistance, and flex control, this board is amazing stable at top speed. It has amazing braking and has been consistently rated as one of the top e-boards for several years now, and at just $749, this board is a bargain compared to some of the other more expensive boards above.
Cost
$749
Quick Specs
Top Speed: – 39km/h (24mph) 4 Speed Modes.
Range: – Up to 14 miles
Wheels: – 90mm – Swappable PU Wheels.
Weight: 7.8kg.
Charge Time: 3 Hours.
Warranty: – 180 days.
Shipping: – Free (World Wide).
The good
- The remote is intuitive, responsive and easy to use
- Price - You get great quality for the price of $749. If you're looking for a top quality board and don't want to break the bank, then look no further than this. Many riders state that this is a comparable board to Boosted even if Boosted was priced the same.
- Acceleration and braking are both top notch.
The not so good
- Top speed only 24 mph
Summary
Definitely a classic electric longboard that has garnered some serious fangirl moments with riders. It's quality, performance and rideability will be praised long after the final board is ridden.
All in all
So there you have it, the 7 best electric skateboards of 2019 according to FriendwithA. We've included off-road favorites such as Onewheel Pint and Evolve Bamboo GTX All Terrain, WowGo 3x, Boosted Mini X and Boosted Dual+, the RazorX Cruiser, a bargain board for kids and beginners plus the rad premium priced Lacroix Jaws™. It's by no means an exhaustive list, but it's got something for everyone. Don't forget to check out our growing range of FriendwithA electric skateboard rentals! Who knows maybe you can trail the board of your electric dreams....
Do you own any of the boards on our list? Which one is your favorite?