Onewheel Pint - The pint-sized portable e-board that won't break the bank
For those who have longed to get their hands on a OW board but have been put off by the price and maybe even the weight - the good people of Future Motion have released a new generation product that takes both things into consideration. The small but mighty OW Pint is still a force to be reckoned with thanks to the sleek ergonomic aesthetics, powerful motor and rad technological features, but don't fear, this thing is still built like a (mini) tank.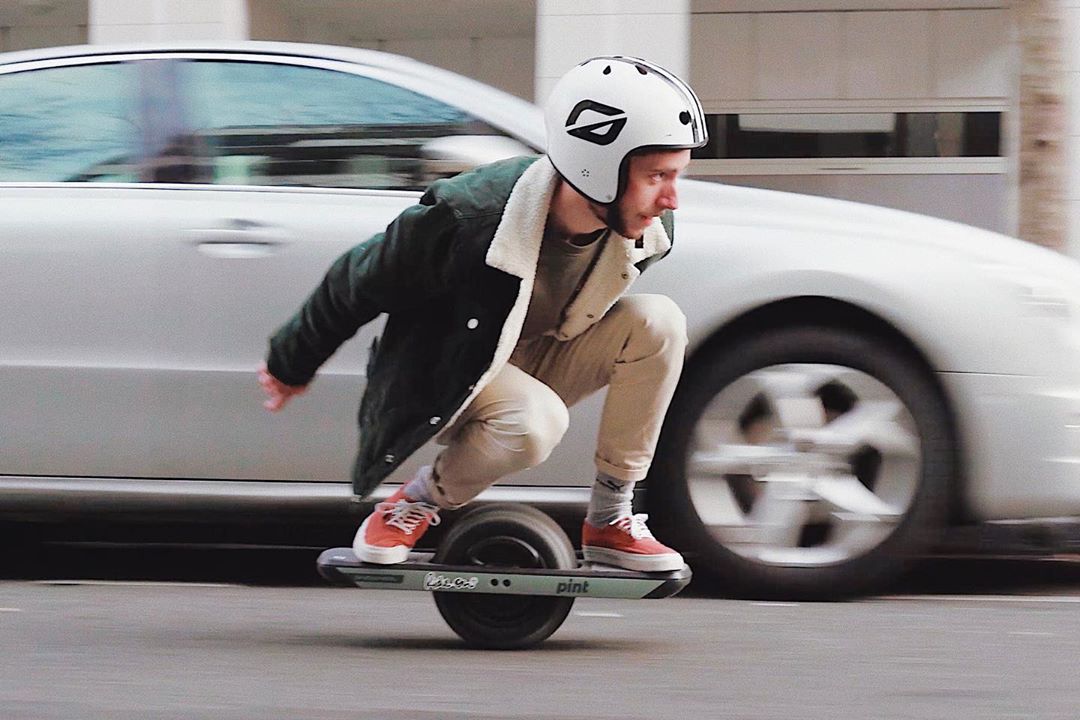 credit:@lucacontor
If we're talking comparisons to other OW models, OW Pint is basically in line with the specs of the OW+. It's a compact, short distance personal transporter perfect for campus-weary college students, short commutes to work and coffee shop visits. A board for everyone, OW enthusiasts will be stoked at the $950 price tag, a price considerably less than its predecessors. But OW Pint didn't come into existence in the shadows of the premium, long-range OW Plus XR or the now discontinued OW Plus. It has its own identity and presence, carving out a new lineage for the OW family, in the 4th generation.
Here's a video of the Pint launch in NYC with founder and CEO Kyle Doerksen.
Specs
Let's take a quick look at the specs. OW Pint has the same 750w Hypercore Motor found in the OW Plus and OW Plus XR, meaning sacrificing power for size isn't a thing. It's got the standard 30 degree lean max for inclines, the self-balancing technology found in all of Future Motions creations and a 6-8 mile range, comparable with a OW Plus.
The tire measures a dinky 10.5in x 4.5-6in and the board tops out at 16 miles per hour. The battery should be OK to take on planes, but as ever, contact the airline in advance to make sure. For a full battery charge with the Pint home charger it takes 120 mins. The Pint Ultracharger takes 60/50 mins. All in all, OW Pint measures 8.75in x 10.5in x 27in.
With this neat OW board chart, you can check out OW Pint next to its family members.
credit@wikipediaOnewheel
Price
Wow! Starting at $950, the price point of OW Pint is one of the main talking points online. By creating a board outside of the premium price range, FM has opened up the chance for nearly anyone to own the gnarly technology and rad power of OW Pint - beginners, teens, and the money-conscious. As FM say, it's 'A total game changer!'.
OW has established three packages to choose from depending on the customer's budget and upgrade FOMO.
Whilst the Ultimate bundle is edging towards those premium prices, getting OW Pint already kitted out with a fender bumper, rail guards, Maghandle and a Pint Ultracharger can save purchasing the items separately and incurring the shipping fees further down the line.
Looks
FM have gone all in with the sleek and minimal look for this board. Though it still has all the classic features like the Surestance footpads, coarse grip tape and optional OW fender, it also has a smaller, rounder 10.5in x 4.5-6in OW tire and a new-look color palette. It's a more refined, less engineering-centric product than other gens and it shows in its awesome good looks. It's also remote-free this time.
A neat feature is the new LED light system found in between the wheel and the front footpad. The LEDs communicate vital info like battery percentage and sense pad indication amongst other stuff. It creates a rad way to get feedback from the board rather than relying on the app (or a remote). OW Pint still has the sick front headlights and back rear lights to illuminate the terrain ahead as your crush it, though. Some things are too sweet to change.
When ordering a OW Pint, customers can choose from a unique set of three color waves for their frame rails - sand, slate (both below) and sage (above). Sage was only available in limited edition however, and it's pretty much sold out. The rails have a pattern coated finish so it's totally durable, anticipating all the wipeouts.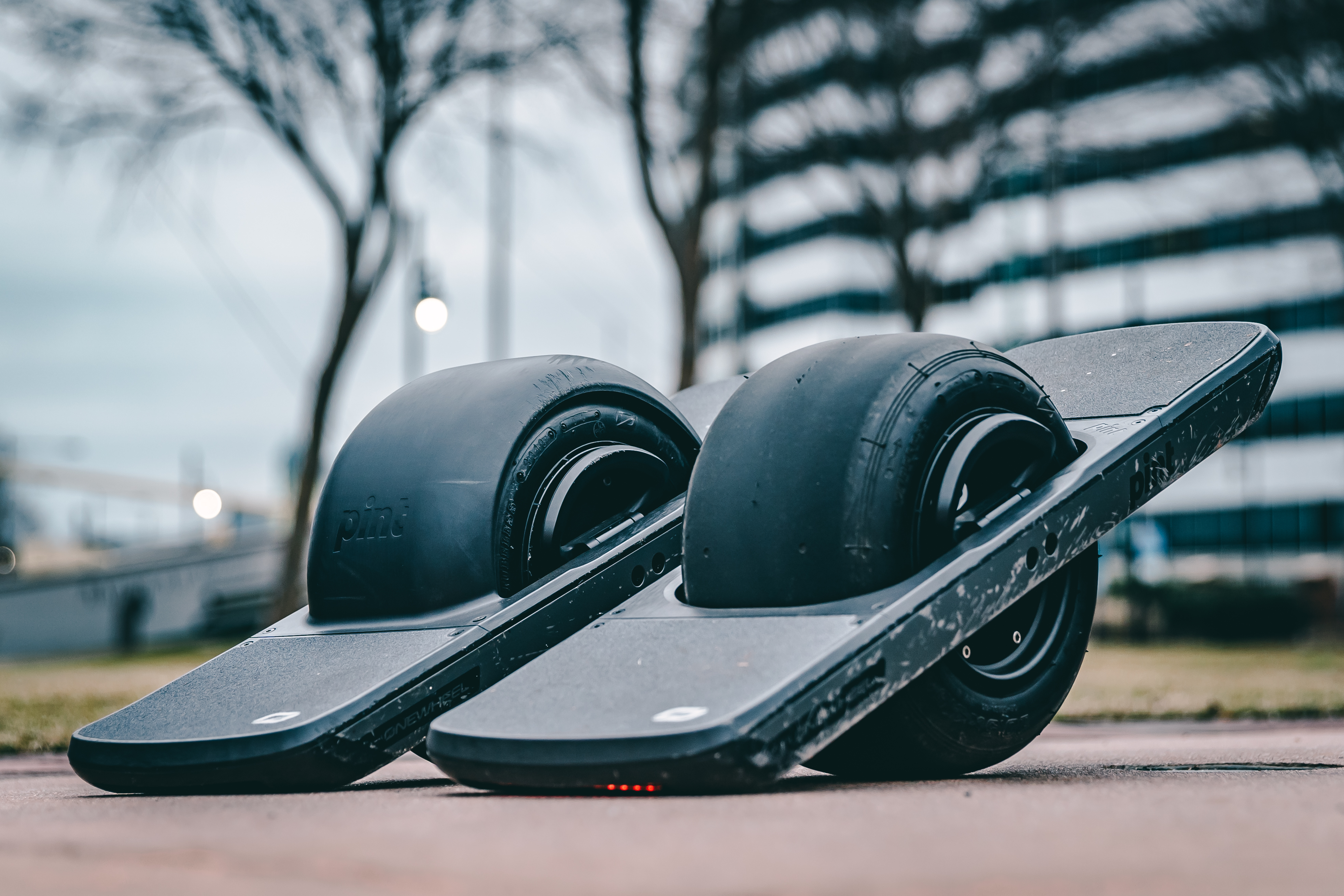 credit@float.va
So, as the OW Pint looks like a fresh new ride, keep it that way with these Onewheel upkeep and maintenance tips which cover things for previous gens, but much of the advice on upkeep applies to OW Pint.
Ridability
There's something so totally cool about just stepping on a board like the OW Pint and riding the first time. No syncing, no buttons = no problem. It's like surfing, snowboarding and skateboarding, all you need is the board, the right terrain and the gnar times will follow. Alongside it's easy use, OW Pint has new Simplestop dismount technology which involves a simple way for beginners to safely step off the board. By leaning back on the rider's back foot, the board stops, allowing for a safe step off, rather than a jump off. This mode can be switched on or off on the app.
Those reviewing OW Pint definitely record a poppier, sharper ride due to the smaller wheel on this board. Carving is tighter plus its more compact form and lighter weight means it feels fast, despite lacking those top speeds of other gens.
credit@Onewheelinsta

Here's a video of YouTuber/skateboarder Jessie Driftwood giving his review of OW Pint, and pro skaters Bodhi Harrison, SlydogStroh and Mike T ripping the OW Pint on a ride.
Portability
Any OW rider will tell you that running out of juice and having no place to charge mid ride is not a good place to be. No one likes lugging their OW long distances. That's why OW Pint comes with a rad little 'Maghandle'. It's an integrated fold out handle to help riders carry the board when they're not riding it. It fits into the coved space on the side of the wheel and folds in after use.
The weight of 23 lbs means that carrying the board is much more comfortable than previous gens, particularly with the handle carry method. And it's proportions mean it can slot under your desk at work, or under the table in a coffee shop.
Digital shaping
The board can be connected via Bluetooth to the Onewheel App, available on Google Play and the App Store, just like with previous OWs. By syncing the board with the app, the rider can customize their ride, choosing their digital shaping mode/ riding mode, check out the top milage and stats around and connect with the OW community amongst other features.
Here's a vid from Onewheel about using the app.
Let's talk accessories
Accessories, upgrades, mods. Whatever you call them, there are a ton available for OW Pint, and these are only the official FM ones. OW Fenders for Pint, embolized nicely with the Pint logo are a popular choice for riders who want to ride all year round without the worry of dirt, dust or rain getting into their board. The fender comes with fasteners and a wrench for installation and removal. If you can't decide whether to buy a fender, check out these reasons why you need a Onewheel fender for inspiration. Cost? $75.00.
Check out the sick Pint-specific colors below:
The same goes for the bumpers. These impact-absorbing high density design bumpers can be easily swapped out if you want to mix up your color combos. They come in 8 color options, so grabbing a pair or two means you can change the standard grey bumpers the OW Pint comes with. Cost? $45.00.
The customization goes further with a range of Maghandle colors to choose from too. Here's the rest of the accessories riders can choose from for OW Pint. For suggestions on how else you can modify your OW, check out the 7 best Onewheel mods to kickstart your customization journey.
All in all…
OW Pint is a (more) affordable electric personal transportation vehicle for anyone who wants to commute a short distance to work, travel across college campus or head to the coffee shop for a caffeine hit. It's inbuilt with Simplestop dismount technology to allow for beginners to dismount easily and comes without a remote, so it's just hop on and ride. It's pretty light and very portable and made from durable materials that are built to last. OW Pint can be upgraded in color choices and this customization adds to the fun of the board - making it your own. There's no doubt, it's still an investment to buy. If the price is still a little steep try out a Onewheel rental on FriendWithA to see if you want to take your e-board journey further. But this little beast has everything you need to keep your local travel needs cheap and environmentally friendly for a long time coming...what's not to like?
Do you have a Onewheel Pint? What do you use it for most? Would you recommend buying a Onewheel Pint?