Riding intense terrain on the Onewheel
The Onewheel can cope with nearly every terrain you throw at it, but how can a rider approach intense terrain and feel confident about crushing it?
Riding intense terrain on the Onewheel
Riding intense terrain on the Onewheel is doing what this board was built for. With it's self balancing technology, 25-pound heavy-duty structure and hard-wearing Vega go kart tire it's asking to crush hills, cruise the beach and shred trail paths. But what should a Onewheel rider be aware of before they attacks off road terrains? And how can they get the most out of their Onewheel in those circumstances? Look no further as we explain Riding Intense Terrain on the Onewheel.
It's tempting to mount the Onewheel and get carried away with speed and incline straight off the bat. But when approaching intense terrain getting in some solid riding experience, being confident on the board and having the right mods can mean getting the best out of your rides. After that, it's fun and adrenaline all the way.
Talk the torque
One of the most awesome features of the Onewheel+ and Onewheel+XR are the Digital Shaping Modes on the Onewheel Digital Shaping 2.0 App for Iphone and Android. Amongst a bunch of other features, the app allows the rider to choose the way their Onewheel rides to suit their riding style and the terrain.
For intense terrains the Onewheel community generally use Delirium. It's an aggressive mode for pushing the boundaries Onewheel was built to break. This mode is highly responsive, slowing down quickly and speeding up just as fast. Trail riding, crushing steep declines and beach paths are the playing fields for Delirium. Whilst other modes for pounding the pavement like Mission may slow down when coming into contact with an obstacle, this is where Delerium attacks with a spurt of throttle. Pushback is more subtle on this mode which many riders prefer, beginning around 15 MPH. The board stays pretty flat, it doesn't lean with you like other modes and that stable board sensation makes riding intense terrain feel safer. Max velocity for Delirium is 20 MPH.
That being said, be aware that attacking intense terrain on Delirium mode will reduce your battery mode by around 20% more than riding Mission for example. You'll also need to dress for the slide not the ride to protect yourself from inevitable wipe outs.
Some riders swear by Elevated mode for intense terrains, as this mode helps with speed when riding up sharp inclines. Max velocity for Elevated is 19 MPH.
It performs well as tested by Techlab as one of the better boards in their performance review of several electric skateboards.
The Onewheel scored high when traveling with ease up a 15%The Onewheel easily made it up a 15% grade hill (on Extreme). The rider switched to Elevated for the 23% test where the Onewheel did OK but struggled. Future Motion claims 20% is the max possible to climb, so that all makes sense - know the boards limits!
Beat powder with sand
The damp sand and loose sand dunes you'll find along the coast need to get a mention as some of the gnarliest terrains the Onewheel can tackle. Start with tightly packed, damp and smooth sand to practice on. You'll ride this terrain easier than the peaks and troughs of loose sand. Those than make riding on uneven, loose sand and make it look easy are probably pros with a ton of experience, so if you want to build up to attempting that, carve it up on the compact sand first.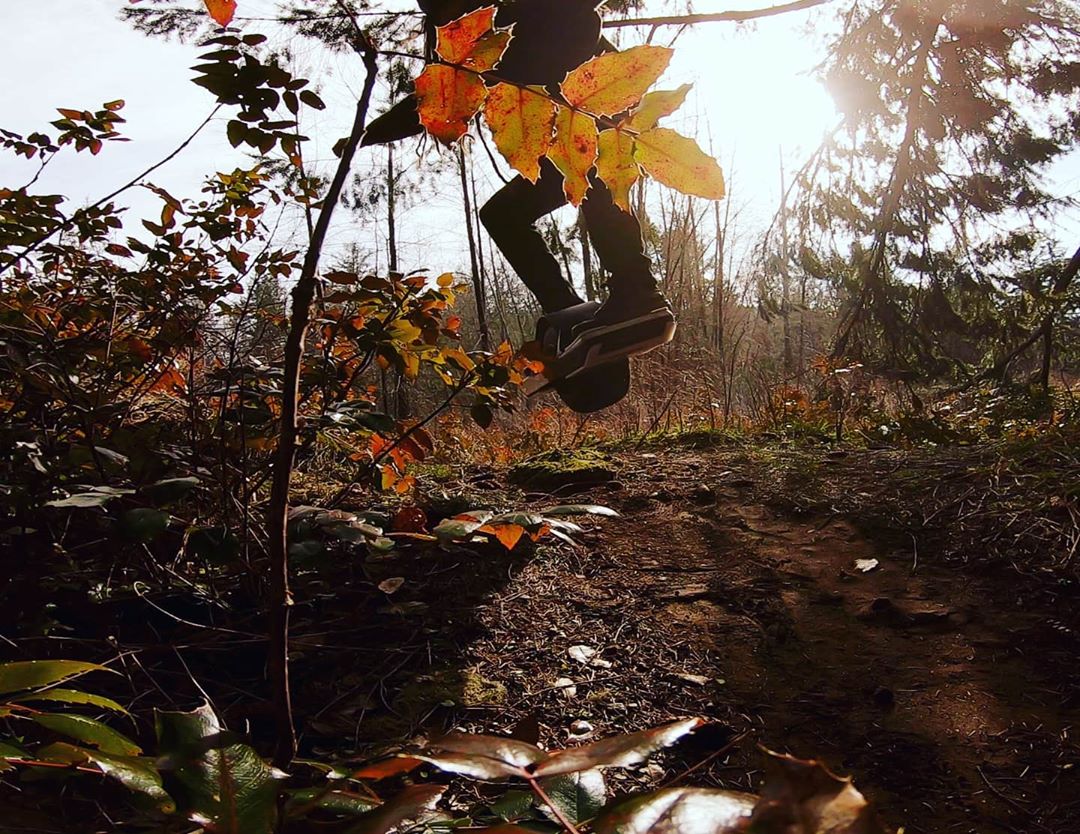 credit:@westcoastlandpirate
Though riding well on sand can be down to the tire traction and riding experience, here's where the self-balancing technology and the water resistant features also come into play.
Water resistant, terrain persistent
Right from the point of assembly, the control board has a protective plastic coating on it just in case moisture gets in. But, riders need to buy an XLR dummy plug for the power port and put some tape over the power button in order to guarantee no fried electrics. You can always waterproof your board too. It goes without saying not to dunk it, it isn't waterproof!
credit@badgerwheel
Self balance
Behind the exterior of the Onewheel are several mechanisms that create the self-balancing technology, namely gyros, accelerometers and a microcontroller. The board intuitively moves where you make it. It's this technology that makes riding on intense terrains all the more fun, like doing tricks on gravel and still standing tall. That means other intense terrains are just practice for a board that innately knows what to do.
credit@artofvisuals
Heavy-duty riding
It's gotta be said, weighing in at 25-pounds this board isn't going anywhere fast unless it's being ridden. But it's a weight that provides that solid static on all terrains, that can handle up to 275-pounds of rider. Sure, you don't want to run a marathon carrying this thing but when it comes to intense terrains and stability, Onewheel scores high.
To negotiate intense terrain riders who want the tightest control they can opt for concave footpads like these from Craft&Ride to lock in their foot and make for tighter carving. For the back footpad, riders who also want the best grip opt for coarse grip tape like this from Craft&Ride or gnarly front and back traction pads. Lock in, and you're ready to ride as aggressively as you dare!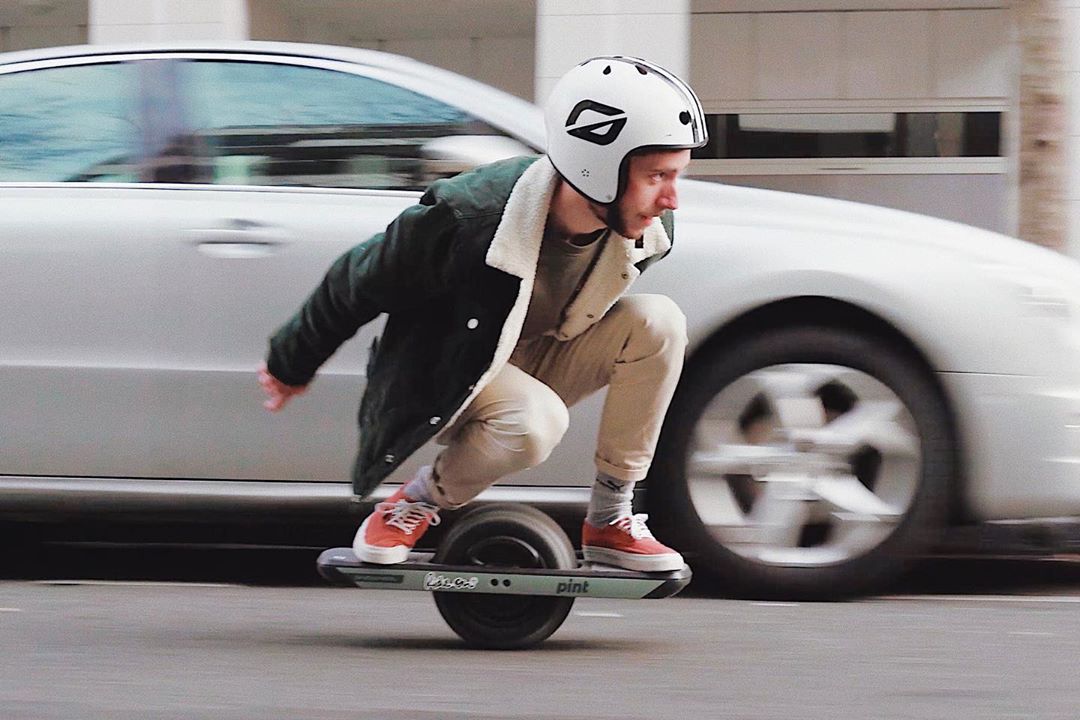 credit:@lucacontor
Better traction more action
No one in the Onewheel community seems to tire from talking about tires. And that's understandable because there are some truly transformative tires out there in the market that perfectly fit the bill of riding intense terrain. For intense terrain it's down to Hoosier or Burris as seen in this video comparing and testing treads. Both can come slick or treaded. Both offer improved traction and a more sturdy ride when offroad but it comes down to which feel you prefer, so it's a person choice. For more info on tires check out the best mods for you Onewheel for inspiration.
credit@racingwarehouse
Heavy-duty
Weighing in at 25-pounds this board isn't going anywhere fast unless it's being ridden. But it's a weight that provides a reliable and solid base on all terrains, that can handle up to 275-pounds of rider. Sure, you don't want to run a marathon carrying this thing but when it comes to intense terrains, it's not flimsy and it won't get smashed up easily. If you don't have a Onewheel already, try a Onewheel rental to see just how robust this board is before you buy.
credit@friendwitha
So, if you're ready to attack some intense terrains remember that there are a ton of ways you can prepare for it. Set your board to Delirium, pimp it out with a treaded tire, concave footpads or coarse grip tape. Block up your charging port and cover the on button. Admire the self feel of the balancing technology, suss out your course of choice and forget about your car. All you need now is a helmet, some protective gear and you're ready for the best board you've ever tried.
Did you agree with our points about riding intense terrain? Do you have any advice you could give other Onewheel riders before they try?